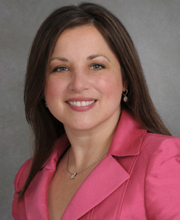 Greetings! Welcome to the Program in Public Health (PPH) at Stony Brook Medicine.
PPH is among 113 programs and 59 schools accredited by the Council on Education for Public Health (CEPH) and the only MPH accredited program located in Suffolk County. Our program attracts a competitive pool of outstanding students with diverse backgrounds, unified by a shared passion to improve quality of life locally or globally. Many of our students either work as practitioners in related fields or are in training concurrently, integrating an ecological understanding of health into careers in medicine, dentistry, business, nursing, social work and beyond. One of the hallmarks of our program is that we create a learning environment that emphasizes a collaborative, multidisciplinary approach to the root causes of public health problems, while instilling the skills necessary to develop innovative and practical solutions effecting positive social change.
Our graduates have the requisite knowledge and competencies to design, implement and evaluate public health programs that will make a difference in community health, environmental health, global health, women's health, social justice and health disparities, health services and clinical outcomes, health policy and other areas of public health research and practice.
One of the many strengths of our program is our exceptional faculty, public health scholars in clinical, social and/or behavioral sciences as well as the humanities. PPH faculty are committed to excellence as teachers and mentors, and many are also leading exciting programs of research which they translate into the student experience in the classroom, laboratory, clinic or in service to other spheres of public health practice.
In addition to our talented students and faculty, PPH is fortunate to have a team of highly professional staff dedicated to the success of our program. From application to graduation, PPH staff work closely to connect students to a growing network of alumni who are public health practitioners and a valuable resource for student field placements and employment.
It is an honor to be the Director of this exceptional program. I invite you to tour our website, familiarize yourself with our degree and certificate programs and visit the profiles of our core and affiliate faculty.
I am confident that our program, faculty, staff and learning opportunities will entice you. I hope you will choose to apply and become a part of the PPH.
Best,
Lisa A. Benz Scott, Ph.D.
Director