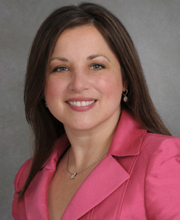 Dear Friends and Colleagues,
The start of a new academic year always excites me because of the energy that comes with welcoming new students, seeing the growth of our existing cohorts, and looking ahead with anticipation for what we will achieve together. This is a particularly impactful start of the year for me personally, because 2019 marks my 18th year as a faculty member and the launch of my eldest daughter on her own college journey as a freshman (she was born in the year I began at Stony Brook). I am so thankful for the opportunity to raise my family in this beautiful community and to build a vibrant academic public health program along with a phenomenal team.
It is truly a joy to work closely with the faculty, staff, students, alumni, and our network of community-based partners to advance our mission. In 2019:
-We expanded student enrollment with the inaugural class of Master of Health Administration (MHA) students entering this August in addition to our thriving Master of Public Health (MPH) program and a new dual degree with the School of Social Welfare that has its first MSW/MPH student. The MHA is the first of its kind in the SUNY system and is a candidate for national accreditation by the Commission on Accreditation for Healthcare Management Education.
- Our first cohort of PhD students successfully achieved "advance standing" with the completion of their comprehensive exams this past summer.
- Our faculty, research scientists, and post-doctoral fellows continue to do research that is influencing the public's health locally, nationally, and around the world; and, we are engaging our students in data collection, analysis, and dissemination of scholarly products. Our courses and practicum experiences provide cutting edge evidence-based resources, engage leaders in the field of public health practice, and focus on real skills that are transferable to tackle urgent and emerging problems.
- We are spearheading a first of its kind inter-professional education and service learning program, in collaboration with public libraries on Long Island and colleagues in Stony Brook's Schools of Nursing, Social Welfare, and our Program in Public Health to address the social and behavioral determinants of health with team-based field work involving faculty and students in the MSW, MPH, and BSN programs. This initiative will provide ongoing practicum and field work training to our students, while also serving as a needed resource to communities.
- Our alumni community is expanding and we are engaging more of our graduates as adjunct instructors, practicum preceptors, and mentors to our students. We are hiring a new full-time staff associate this year to support community engagement and practicum placements, and encourage our graduates to apply.
The faculty and staff look forward to getting to know our new students throughout this year, whether in the classroom, at one of our program's social events or service activities, or in a public health practice setting. Together we will promote improvements in the public's health, through our shared commitment to excellence in teaching, research, and service, and also a commitment to support one another in meeting the challenges ahead. There is so much to be done and not enough of us to do it, whether we focus on gun policy reform, adverse childhood events and trauma, chronic disease prevention and management, access to and quality of health care, ethical concerns in health care, health disparities, or the built environment. The needs are great, and the opportunities to make an impact are endless.
Let's do this public health thing together, and make wonderful memories along the way.
Best wishes for a year of meaningful relationships, purposeful work, and a shared hope that we will see a better world for all.
Sincerely,
Lisa A. Benz Scott, Ph.D.
Director and Professor