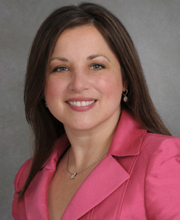 Director's Welcome
Dear Friends and Colleagues,
The start of a new academic year always excites me because of the energy that comes with welcoming new students, seeing the growth of our existing cohorts, and looking ahead with anticipation for what we will achieve together. My excitement this year is tempered by the challenges we will undoubtedly face as we rely in large part on technology solutions to support us through social distancing and de-densification as best we can to work, learn, recreate, and engage with one another. I will miss greeting our incoming class in a face to face format, catching up with our continuing students on how their studies are progressing and what plans they have started to make after program completion. I look forward to the time we can all be together again in the physical spaces we shared in classrooms, hallways, field experiences, and in the Program in Public Health's office suite.
I want to assure you that the Program in Public Health is fully dedicated to excellence to train the public's health and health care management workforce, as well as to lead innovative and impactful research to promote health and well-being among all people. The demand for training has never been more intense and we are prepared to respond. The 2020 applicant pool was the largest and most competitive in our 16-year history. I am so proud of our faculty and staff, who despite the strain of the crisis to our work and personal lives, have matriculated for Fall 2020 more than two times the number of Master of Public Health (MPH) students compared to last year, and filled every seat with outstanding aspiring leaders for the Master of Healthcare Administration (MHA) program.
Stony Brook Medicine is not alone in the demand for training of public health and health care leaders, with over 24,000 applications to nationally accredited schools and programs in public health this year (a growth of 20% compared to the prior application cycle). We are living in a world that is keenly aware of the importance of public health strategies to prevent, monitor, and ultimately curtail the spread of communicable diseases such as COVID-19, and we are dedicated to doing our part to understand and intervene to minimize the devastating upheaval this ongoing public health crisis has to daily life for all.
We will do everything possible to reach through the technology that virtually connects us to have authentic and meaningful interactions. We fully intend to return our MPH curriculum to an "on the ground" face-to-face experience in the future (perhaps as early as Spring 2021 depending on current guidance from the CDC, Governor and campus). The MHA program is now available fully on-line, and we welcome MHA students to participate in campus activities when we return to in-person engagement in the future. Looking at the year ahead, in 2020:
-We expanded student enrollment in a new dual degree with the School of Social Welfare that will welcome 15 MSW/MPH students, and we launched a new Master of Epidemiology and Clinical Outcomes Research program this Fall.
-The MHA has over 70 students enrolled, and is the first of its kind in the SUNY system. The MHA offered by the Program in Public Health is a candidate for national accreditation by the Commission on Accreditation for Healthcare Management Education, and we are preparing to welcome an exceptional team of accreditation evaluators for a virtual site visit this October.
- Two of our PhD students from the first cohort successfully graduated this past summer and both have employment in their respective areas of interest after graduation.
- Our faculty, research scientists, and post-doctoral fellows continue to do research that is influencing the public's health locally, nationally, and around the world; and, we are engaging our students in data collection, analysis, and dissemination of scholarly products. Our courses and practicum/experiential learning experiences provide cutting edge evidence-based resources, engage leaders in the field of public health and health care management practice, and focus on real skills that are transferable to tackle urgent and emerging problems.
- We are delighted to welcome two new Core faculty members to PPH this year, with Dr. Wei Hou joining us and Dr. Olga Morozova (recruited from the Yale School of Public Health, a scholar trained in infectious disease epidemiology). In addition, Dr. Dylan Smith will be the MPH Program Director beginning in July 2021, and became the Associate Director this summer to learn the ropes of this position. He will step down as Director of the PhD program in August 2021, and in preparation he is working closely with Dr. John Rizzo to transition that role in a year's time. We also are excited to welcome Dr. Jeff Ritter as the Associate Director of the MHA program and a full-time member of our faculty.
- Our alumni community is expanding and we are engaging more of our graduates as adjunct instructors, practicum preceptors, and mentors to our students. We hired a new full-time staff associate earlier this year (an alumna of the MPH/MBA dual degree program, Ms. Pascale Fils-Aims) to support community engagement and practicum placements.
The faculty and staff look forward to getting to know our new students throughout this year. We are available by phone, email, and by appointment to support and connect with our students on Zoom, Teams, or on campus when able to do so. We will have office hours and will plan opportunities for informal ways to get to know one another outside of course instruction. We desire to continue to build a vibrant academic public health program where everyone is valued and wants to be a part of our community.
Together we will promote improvements in the public's health, through our shared commitment to excellence in teaching, research, and service, and also a commitment to support one another in meeting the challenges ahead. There is so much to be done and not enough of us to do it. The public health needs are great, and the opportunities to make an impact are endless.
Best wishes for a year of meaningful relationships, purposeful work, and a shared hope that we will see a better world for all.
Sincerely,
Lisa A. Benz Scott, Ph.D.
Director and Professor