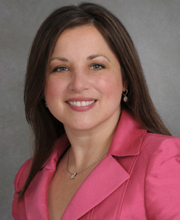 Dear Friends and Colleagues,
This is a very exciting year both professionally and personally for me as it marks a few important milestones for PPH and my family life. The week that the Fall 2023 semester began we embarked on our 20th year as an academic public health program, noting that the first faculty and staff were hired in the year 2003-2004. We intend to plan a celebration and to reflect on the program's first 20 years as well as where we are headed in the decade ahead. Details on plans to celebrate this milestone anniversary will be shared in the coming months as we engage our stakeholders in the planning process. On a personal level, I celebrated my 50th birthday and became an empty nester in late August, with both my daughters at different stages of their college journey--- my youngest daughter is now a freshman at a SUNY school, and my eldest daughter is an applicant to several DVM/MPH programs around the country after recently completing a major in animal science at Penn State University. It is an exciting time for me to consider how best to live out "healthy aging" in my daily life. I know, for example, that a purposeful day adds immensely to well-being, and for me I am energized by the thriving academic public health programs and community that is the Program in Public Health at Stony Brook University. I am inspired by the faculty, staff, students, alumni, and the many expanding academic programs, research and inter-professional education, and community engagement projects, as well as welcoming our new students. Together with the faculty and staff, we wish every new and continuing student immense success for those enrolled in the MHA, MPH, PhD, MS, and/or a dual degree program. We also warmly welcome several new faculty who will join us at various points throughout the 2023 and 2024 calendar years. Our continuing PhD students, post-doctoral scholars, and research scientists are growing by leaps and bounds with research in collaboration with their faculty mentors, and our masters students are performing competency-driven work to complete impactful practicum and internship projects that are making a difference in public health and health care management settings.
The 2023 applicant pool yielded over 80 new students to the MPH, MHA, MS, and PhD programs. The student body is full of talented, highly intelligent, curious, hardworking, and dedicated people from a large geographic span of places of origin, diverse life and work experiences, and prior training in clinical and non-clinical fields. I expect that students will be able to engage in exciting discussions, learn a great deal from one another, and develop friendships and collegial relationships that will last a lifetime.
These relationships start with the decision to pursue them and contribute to debates, group assignments, e-discussion boards, and attend social and networking events to the extent possible. The old adage, "you get what you put into it" could not be truer in a graduate school education whether the effort put forth is in the traditional classroom setting, a practice-based fieldwork experience, or an online program.
The faculty has grown to include the following new hires that will all be here within the next few months: Dr. Mahdieh Danesh Yazdi (recruited from Harvard Chan School of Public Health, a scholar trained in infectious disease epidemiology; Dr. Alina Denham (also recruited from the Harvard University, School of Medicine, trained in health care policy); Dr. Benny Ren (recruited from U Penn, biostatistics expert); Dr. Laura Sampson (recruited from the Boston University School of Public Health, with expertise in the impact of climate and natural disasters on mental health of populations); Dr. Marie Sillice (recruited from the CUNY School of Public Health, with expertise in health disparities and community-based behavioral intervention research); Dr. Guanyu Huang (recruited from Spelman College, an atmospheric scientist with research dedicated to the impact of air quality changes/differences on human health); and Dr. Minghai Qiu (recruited from Stanford University with research also dedicated to the intersection of human health and climate). We will continue to hire additional faculty in 2023-2024 to expand our academic programs with more electives, a track in climate solutions and health (in the MPH), and more courses related to healthy aging and long-term care management.
Our faculty, research scientists, and post-doctoral fellows continue to do research that is influencing the public's health locally, nationally, and around the world; and, we are engaging our students in data collection, analysis, and dissemination of scholarly products. Our courses and practicum/experiential learning experiences provide cutting-edge evidence-based resources, engage leaders in the field of public health and health care management practice, and focus on real skills that are transferable to tackle urgent and emerging problems.
The faculty and staff look forward to getting to know our new students throughout this year. We are available in person, by phone, email, and by appointment on Zoom or Teams. We will plan opportunities for informal ways to get to know one another outside of course instruction and encourage students to organize such opportunities as well.
We desire to continue to build a vibrant academic public health program where everyone is valued and wants to be a part of our community.
Together we will promote improvements in the public's health, through our shared commitment to excellence in teaching, research, and service, and also a promise to support one another in meeting the challenges ahead.
There is so much to be done and not enough of us to do it. The public health needs are great, and the opportunities to make an impact are endless.
Best wishes for a year of meaningful relationships, purposeful work, and a shared hope that we will together create and sustain a better world for all.
Sincerely,
Lisa A. Benz Scott, Ph.D.
Professor and PPH Executive Director
MHA Program Director
Founder and Co-Director, Healthy Libraries Program (HeLP)