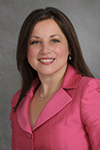 Welcome to the Program in Public Health
Greetings! Welcome to the Program in Public Health (PPH) at Stony Brook Medicine. PPH is among 101 programs and 50 schools accredited by the Council on Education for Public Health (CEPH) and the only accredited program located on Long Island. Our program attracts a competitive pool of outstanding students...Learn more.
---
What's Happening in Public Health?

---
Accomplishments
Congratulations to Dr. Clouston and Dr. Kidman for each winning an award for a poster presented at the Annual Meeting of the Population Association of America, for their respective studies, The Role of Birth Cohort in Changing Expectations about Cognitive Aging and Do Protect National Marriage Age Policies Reduce the Practice of Child Marriage?
Congratulations to PPH alum, Michael Lamb ('14), for passing the CPH exam (taken in February 2016), indicating that he has met the competency requirements to be Certified in Public Health.
Congratulations to PPH alum, Margaret Pichardo ('13), for her acceptance into the National Institutes of Health's Cancer Research Interns program. She will be spending her summer looking at the link between prostate cancer and obesity, working under Drs. Stephan Ambs and Cheryl Jacobs Smith at the NCI – Center for Cancer Research.
More Accomplishments >

Connect with the PPH