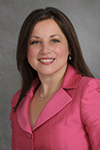 Welcome to the Program in Public Health
Greetings! Welcome to the Program in Public Health (PPH) at Stony Brook Medicine. PPH is among 113 programs and 59 schools accredited by the Council on Education for Public Health (CEPH) and the only public university that is an accredited program located on Long Island. Our program attracts a competitive pool of outstanding students...Learn more.
---
What's Happening in Public Health?

---
Student, Alumni and Faculty Accomplishments
March 2018
November 2017
Congratulations to Dr. Lauren Hale for being quoted in an article on Slate.com! Read here.
June 2017
Watch Dr. Lauren Hale discuss her recent study of NBA players' late night tweets and next-day game performance outcomes on ESPN! Congratulations!
April 2017
Congratulations to current MPH/MAPP student, Brooke Nepo, for accepting a legislative fellowship with AARP's Government Affairs team in Washington, D.C. this summer!
March 2017
Congratulations to MPH alum, Tracy Trypuc, RN, MPH, MBA, BSN, for being honored by the Suffolk County Legislature for her ten years of service with the Suffolk County Board of Health!

Congratulations to current MPH student, Tayisha St Vil for being a co-presenter, along with President Stanley, at SXSWedu, an innovative educational conference in Austin, TX! Tayisha has been involved in campaigns promoting gender equality at Stony Brook University, such as HeForShe ideation and HeForShe Teach - In/Speak. Click

here

for more information related to the conference and

here

for a video filming the panel talk.
Congratulations to current MPH student, Pallavi Srivastava on winning the best abstract award in the graduate student category at the 11th Annual Women in Research Day at Stony Brook Medicine! Pallavi's winning abstract is titled, "Comparison of access to care in veterans versus non-veterans with cardiovascular disease."
Congratulations to current and former MPH students, Natalie Crnosija, Pallavi Srivastava and Rachel Wong for presenting their respective research projects at the Stony Brook University School of Medicine's 11th Annual Women in Medicine Research Day!
December 2016
November 2016
Congratulations to Dr. Hale for her recently published research in JAMA-Pediatrics,

Association Between Portable Screen-Based Media Device Access or Use and Sleep Outcomes,

being listed as #61 of the

top 100

most discussed science journal articles of 2016!
Congratulations to Dr. Hale for being featured in

"Editor in a (60 second) Spotlight"

by Elsevier! Dr. Hale is editor in chief of the Journal of the National Sleep Foundation.
More Accomplishments >

Connect with the PPH