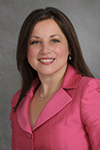 Welcome to the Program in Public Health
Greetings! Welcome to the Program in Public Health (PPH) at Stony Brook Medicine. PPH is among 101 programs and 50 schools accredited by the Council on Education for Public Health (CEPH) and the only accredited program located on Long Island. Our program attracts a competitive pool of outstanding students...Learn more.
---
What's Happening in Public Health?

---
---
Congratulations to faculty member, Dr. Lauren Hale! The journal Sleep Health, won the PROSE award for the best new journal in Science, Technology and Medicine! Dr. Hale is founding editor of this journal and this award is great recognition of its successful launch this past year.
---
Shout out to PPH faculty, Dr. Amy Hammock, PPH alum, Ahmed Belazi ('10), and PPH student, Smita Majumdar Das, along with many other Stony Brook faculty and staff, for their work on the Green Dot initiative, a bystander intervention training for preventing forms of power-based personal violence (such as rape and sexual assault).
Read More
---
Congratulations to MPH student, Shabana Humayon, who presented on her work with "Fit Families for Life", on October 22, at the 2
nd
Annual Perspectives in Patient and Family Education conference. The conference was held at NYU Langone Medical Center and celebrated National Health Education Week. Dr. Sharon Martino is the principle investigator for "Fit Families for Life" and is Shabana's mentor. Thank you, Shabana, for being a terrific representation of PPH's work in the community!
---
Congratulations to MPH student Dr. Sarah Rose Pestieau, who has been selected as this year's winner of the Michael A. Maffetone award in recognition of her volunteer efforts with Doctors Without Borders.

Read More
---
More Accomplishments >

Connect with the PPH