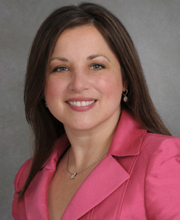 Dear Friends and Colleagues,
The start of a new academic year always excites me because of the energy that comes with welcoming new students, seeing the growth of our existing cohorts, and looking ahead with anticipation for what we will achieve together.
This year we continue to face uncertainty about what may happen with COVID-related response measures and the potential need for instructors to adjust teaching and learning methods. We remain ready to pivot quickly to emerging crises and to work together to protect and promote the public's health, as well as our own, in keeping with sound science, best practices, and an abundance of caution. We will continue to monitor guidance from the NYS Governor, the CDC, the State, and County Departments of Health, as well as SUNY and our University leadership.
The 2022 applicant pool to our various PPH degree programs combined with the excellent selection process by our Admissions Committee composed of alums, faculty, staff, and community content experts brought us over 70 new students to the MPH, MHA, and PhD programs.
The student body is full of talented, highly intelligent, curious, hardworking, and dedicated people from a large geographic span of places of origin, diverse life and work experiences, and prior training in clinical and non-clinical fields. I expect that students will be able to engage in exciting discussions, learn a great deal from one another, and develop friendships and collegial relationships that will last a lifetime.
These relationships start with the decision to pursue them and contribute to debates, group assignments, e-discussion boards, and attend social and networking events to the extent possible. The old adage, "you get what you put into it" could not be truer in a graduate school education whether the effort put forth is in the traditional classroom setting, a practice-based fieldwork experience, or an online program.
I also want to celebrate the work of our faculty and staff, who have continued to thrive despite the strain of the crisis. Together they have successfully competed to obtain substantial research awards, and publish their scholarship, all the while mentoring students and collaborating with public health and health system partners.
This year we are delighted to welcome a new faculty member, Dr. Mahdieh Danesh Yazdi (recruited from Harvard Chan School of Public Health, a scholar trained in infectious disease epidemiology).
In addition, we are excited to have the support of senior leadership to grow our faculty with a total of 5 searches for new faculty hires and 2 new professional staff members planned for this year. The search for excellent new faculty and staff will provide opportunities for students to meet with applicants and learn about their work on a variety of public health topics. We anticipate hiring scholars to expand our impact in addressing public health problems for community health, health care management and health policy, climate solutions and the environment, and population health. We endeavor to offer students new courses as electives and develop a track in climate change and human health, slated to be offered in 2023-2024 pending SUNY approval.
Our faculty, research scientists, and post-doctoral fellows continue to do research that is influencing the public's health locally, nationally, and around the world; and, we are engaging our students in data collection, analysis, and dissemination of scholarly products. Our courses and practicum/experiential learning experiences provide cutting-edge evidence-based resources, engage leaders in the field of public health and health care management practice, and focus on real skills that are transferable to tackle urgent and emerging problems.
The faculty and staff look forward to getting to know our new students throughout this year. We are available by phone, email, and by appointment to support and connect with our students on Zoom, Teams, or on-campus when able to do so. We will have office hours and will plan opportunities for informal ways to get to know one another outside of course instruction.
We desire to continue to build a vibrant academic public health program where everyone is valued and wants to be a part of our community.
Together we will promote improvements in the public's health, through our shared commitment to excellence in teaching, research, and service, and also a promise to support one another in meeting the challenges ahead.
There is so much to be done and not enough of us to do it. The public health needs are great, and the opportunities to make an impact are endless.
Best wishes for a year of meaningful relationships, purposeful work, and a shared hope that we will together create and sustain a better world for all.
Sincerely,
Lisa A. Benz Scott, Ph.D.
Professor and PPH Executive Director
MHA Program Director
Founder and Co-Director, Healthy Libraries Program (HeLP)